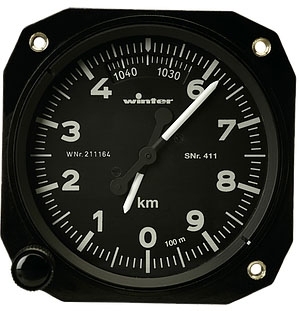 Altimeter
Altimeters
Altimeters measure static air pressure, which decreases with altitude. The pressure-sensitive measuring element is a diaphragm capsule from which the air has been removed (aneroid capsule), which reacts to the effect of changing air pressure as the aircraft changes altitude. Tempered, aged copper-beryllium diaphragms ensure highly accurate readings. Diaphragm movement is transmitted to the instrument pointers by a linkage and gearwheels – the whole is insensitive to shock and vibration. A bimetal link compensates the effects of temperature change.
Features
High measuring precisions, temperature compensation, linear dialgaugegradations, insensitive to shock and vibration, simple zero adjustement.
Maintenance instructions
Leak testing should be carried out at least every 2 years. Otherwise, the instrument does not require any maintenance.
Retesting and repair
The service condition and accuracy of measurement of the altimeter is normally retained over a long period. For obvious malfunction the unit should be subjected to an investigation at the manufacturer or a suitable aircraft engineering company.
It should be packed to protect it from impacts, and the connections should be sealed. Under no circumstances should you interfere with the measuring mechanism of the altimeter.
We recommend that altimeters are subjected to periodicretesting after 5 years
Show 1 to 6 (of in total 6 products)